Courts & Facilities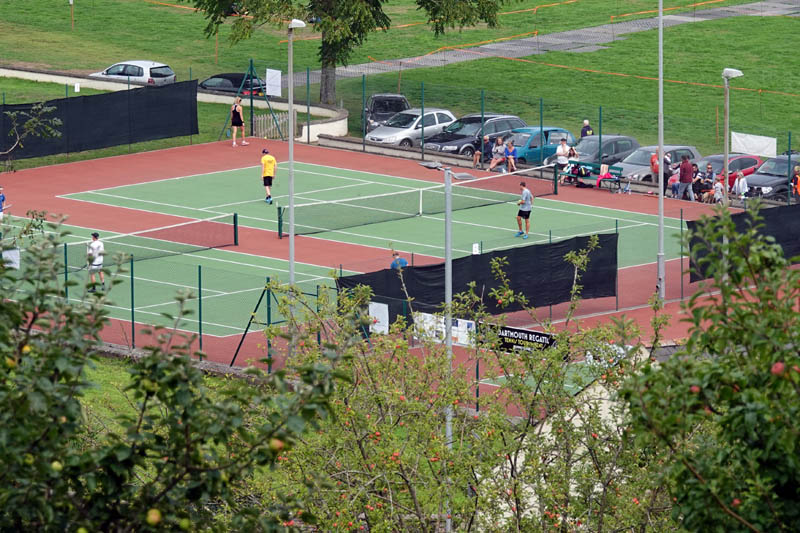 In Dartmouth we are fortunate enough to have four all-weather tennis courts, two of which are floodlit, and all available for public use on Coronation Park (TQ6 9RR).
The courts are owned and managed by Dartmouth Town Council and can be booked through the LTA's ClubSpark website by annual season ticket holders and casual visitors. The courts are centrally located in the town and provide stunning views of the river.
Toilet facilities are located within a short walk and plenty of cafes and pubs for post-game refreshments. &nbspParking can be found either at Mayors Avenue Car Park, or the Park and Ride near Sainsbury's or along the embankment.
Dartmouth Tennis Association
There is no physical tennis club at Dartmouth but we have formed ourselves into an association for the purpose of promoting, organising and developing the tennis played on Coronation Park. Membership is free. Our aim is to encourage tennis players of all ages and abilities to use the courts by joining our weekly groups and taking part in the various events we hold including the annual competitive Regatta Tennis Tournament which attracts both local players and those from farther afield.
"Founding members"
Alan Rimmell, Alison Bull, Alison Timms, Alistair Forbes, Andrew Davis, Andy Clark, Ann Marie Swart, Anne Taylor, Anne Woodward, Annie Norton, Archie Mesgian, Aroop Mozumder, Beth Scorer, Bill May, Bob Tyrell, Carol Lingard, Caroline Wigley, Caryn Yates, Chris Smith, Christine Scott, Clare Pridmore, Colin Raven, Craig Davidson, David Hackford, David Parker, Deborah Lord, Deborah Penn, Derek Berra, Edward Jephson, Eva Harrison, Frankie Davidson, Georgina Parker, Graham Buckel, Harry Franks, Helen Jacob, Irene Collins, Jayne Turner, Jim Hassan, John Bretherton, John Collins, Jon Preston, Jonathan Shribman, Julie Elliott, Julie Moores, Julie Rogers, Juliet Mason-Jones, Karen Davis, Kate Watson, Katy Barwell, Kaye Cowley, Keith Williams, Ken Johnson, Leo Whittington, Linda Raven, Lindsay Ellwood, Louise Furbank, Mags Wilmshurst, Margaret Bailey, Maria Avis, Marion Foster, Mark Jessep, Martin Clive-Smith, Maureen Preece, Nicholas Smith, Nicole van der Eyden, Pam Braakenburg, Patrick Hinde, Paul Tucker, Peter Avis, Peter Gardner, Peter Verow, Phil Braakenburg, Philippa Franks, Richard Hawke, Richard Johnston, Richard Turner, Robert Brooke, Rosie Clive-Smith, Ross Pridmore, Sally Clarke, Sheila Shribman, Soo Forbes, Spencer Wigley, Stephen Yates, Steve Cairns, Steve Jones, Stuart Duke, Sue Black, Sue Preston, Susan Elias Jones, Susan Manley, Tom Harrison, Tracey Bridgwood, Vivienne Dunne, Yvonne Cottam (94 members to date and others are welcome - please email us at peteravis1@gmail.com to join).......
Weekly groups are organised by a number of Tennis Group Coordinators, providing the opportunity to play mixed doubles both in the week and weekends throughout the year. New members are most welcome and social events and smaller tournaments are also regularly planned. Please email us at: dartmouthregattatennis@gmail.com if you need further help or information. If you are new to Dartmouth click this link to see some things to do in Dartmouth
Booking Courts
You can book courts using the ClubSpark website or phone app. In both cases you will need to create an account.
To access the ClubSpark website Click Here
To download ClubSpark Booker on iOS Click Here
To download ClubSpark Booker on Android Click Here
Regular Tennis Sessions
Events for 2023
June 11th - American Tournament for the RNLI
December- Christmas Party - December 6th. The Sail Loft - 7 pm We have negotiated with the Cellar Door to provide pre-ordered bowls of food at £20 per head but need 50 to sign up - contact Yvonne at ycottam@live.co.uk
New Year - Dartmouth Davis Cup - dates and details to come
Previous Events